Well, it has been a funny day here. I put some trades up last night at rates that would make exchanges in Australia and NZ blush and so far … no takers. Even compared to LocalBitcoins I'm 5% better on every price, and more convenient.
So, it looks like I'm about the only person running Bitsquare in the antipodes. If it were easier to use I'd suggest some promotion would be in order but at this stage I fear the average person would find the whole process just too messy.
As a small example, consider the screen size default. I use an SVGA standard 1024x768 IBM laptop of the type found almost everywhere 5 years ago. The Java app sets the default size as larger than this, and reducing it to fit makes a mess of the layout. (Note the squashed area near the price ticker, and graphs that run off the right side.)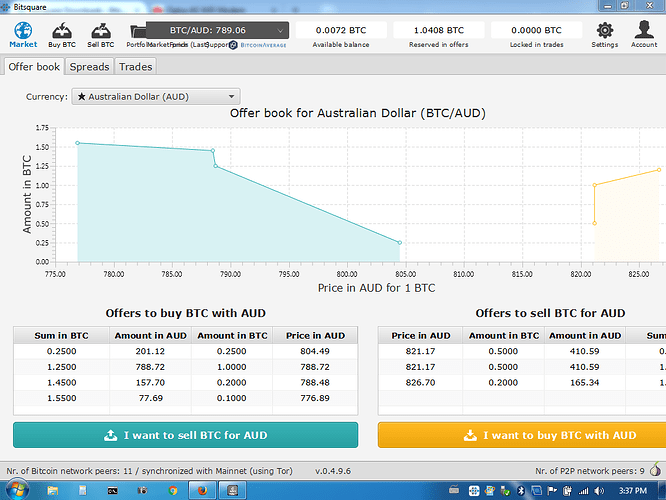 I'm aware of this sort of issue with my earlier experiences with Java, which was one of the reasons I dumped it for Delphi. It's also as slow as treacle but it is cross-platform, which is Java's only useful feature as far as I can tell.
Anyhow, I'm going to have a poke around in the code and see if there's anything I can fix. Sure beats staring at the screen thinking "Why don't they buy my bitcoins?"