If any one use the new dev test release, please don't publish offer with the new payment methods yet, as that would cause problems in the existing version!
@ManfredKarrer
clearXchange looks like a nice service, but isn't the main part of bitsquare is that it is peer-to-peer. What about people, like me, who don't want to add another organization as a third party to the transaction?
As far I understand clearXchange it is just a kind of payment processor on top of Banks. Their own Paypal if you like…
I think if you have a bank account with one of the supporter banks you can actiavte it and do person to person transactions. They don't know/see anything about Bitsquare, so it is the same liek wiht normal Bank transfers.
Please correct me if my assuptions are wrong!
I think your description of clearXchange is accurate. I just don't want my transactions to be seen by yet another company if I don't have to.
Hmmm interesting question. The site says you only have to know the recipient's email or mobile phone number. There is a place to enter the name and that's definitely where they should up in your QuickPay "address book". I guess if someone else out there has a US Bank account we could do a small test transfer to see what happens if you put in something that isn't the person's name. That may be the best way to find out :-D. Any takers? Any US people out there with a bank account I can send to?
@BlueCustard I placed an offer now for buying BTC via clearXchange. Will be glad to test this with you.
Done! I've just sent the payment, and it seems it has been accepted

I just sent payment for a transaction and for 'Recipient name' I just entered "in-cred-u-lous", it seems the payment has gone through just fine, so though there is a place to enter the name, I don't think it matters what you put in there. I also went back afterwards and could verify the payment via the web page. The redacted image: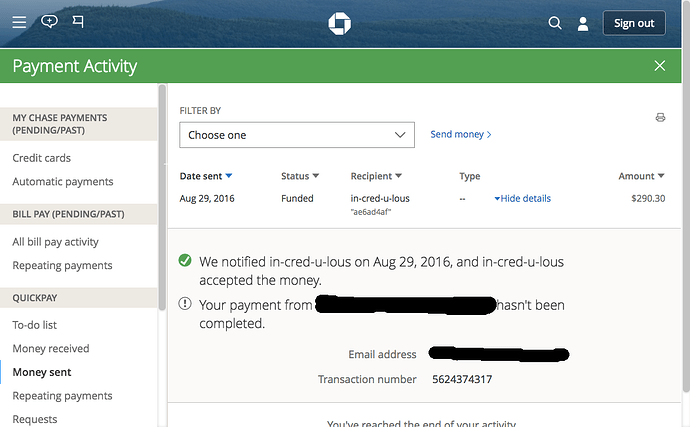 Note it says payment "hasn't been completed" I guess this is the part where the actual transfer happens via ACH and will take some period of time.
Three things:
The clearXchange offer (which above seems to have been accepted by BlueCustard) does not appear in my Open Trades tab and it still appears Available Offers under US Dollars (USD). So, my offer through BitSquare has not been accepted.
I have not received a notification by phone, email or online from my bank that is connected to clearXchange.
My clearXchange offer was for 0.1 BTC (~58 USD) but BlueCustard above has initiated a transfer of $290.30
I have seen 2 offers, it seems @BlueCustard has taken another offer. @BlueCustard could you check which trade ID you have?
Great thanks for testing it!
Uh-oh, yeah, sorry, I just took the first offer I noticed in the list and it was indeed for 0.5 BTC. Ooops! The trade I submitted a transaction for was ae6ad4af.
Ok, so I guess your offer was to sell 0.1 bitcoin? I accepted that offer too, 1f73a3c1. Buy high, sell low! Ooops, wait, now that wasn't it was it?
@BlueCustard Yeah thats what I thought but now I see I made a mistake and actually made an offer to buy 0.1 bitcoin. Well… lets test it both ways then.
@ManfredKarrer It is not possible to select and copy the Account holder name or Email/mobile no. when starting a clearXchange payment. Can this be fixed in a future version?
Upps… Yes will fix tha tfor the next version
Ummm, perhaps my email address should be obscured here?

Yup, looks like payment is in process so let's see how long it takes to settle, I just "accepted" the payment and the bank says processing. Thanks!
Oh crap, sorry about that! I took away the pic.